trust-identity-reg - [trust-identity-reg] Advance CAMP Unconference 2017 Follow-up
Subject: Trust and Identity Meeting Registrants
List archive
From: Emily Eisbruch <>
To: "" <>
Cc: "" <>
Subject: [trust-identity-reg] Advance CAMP Unconference 2017 Follow-up
Date: Tue, 24 Oct 2017 17:59:51 +0000
Accept-language: en-US
Authentication-results: spf=none (sender IP is ) ;
Ironport-phdr: 9a23:wUi/TR8Ryux3Sv9uRHKM819IXTAuvvDOBiVQ1KB21e4cTK2v8tzYMVDF4r011RmSDNWds6oMotGVmpioYXYH75eFvSJKW713fDhBt/8rmRc9CtWOE0zxIa2iRSU7GMNfSA0tpCnjYgBaF8nkelLdvGC54yIMFRXjLwp1Ifn+FpLPg8it2e2//57ebx9UiDahfLh/MAi4oQLNu8cMnIBsMLwxyhzHontJf+RZ22ZlLk+Nkhj/+8m94odt/zxftPw9+cFAV776f7kjQrxDEDsmKWE169b1uhTFUACC+2ETUmQSkhpPHgjF8BT3VYr/vyfmquZw3jSRMMvrRr42RDui9b9mRh/2hikaKz43/mLZis1sg61Uux+hvQBzz5LObY2JKPZyY6XQds4aS2pbWcZRUjRMDIy5b4sOC+oAPftToYb8p1sVthS+HxSsC//vyjRVgXL5w6g60+UlEQDGxwEgHtQOsGjKo9XvMqcdT/y1wLfSwTrdcvxWxC7w5Y7VeR4vpvGMWKh/ccvXyUQ3FgPFiEmQppL/PzOTyOsNr3aX4/B+Wu2ylm4qrRx6rDu3xso0l4XFmo0YxkrL+Ch72oo4KsC0RFR/bNOkCJdcqSCXO5drTs4nTGxkpDo2x7gFtJKnYCQG1ZEqyhHQZvGHb4SF5xDuWeWfLDhigX9qY7CyiA288UWlzuDwSs250FhPoyVejNXBt3AA2hrO4cadUPR95F2u2TOX2gDT9O5EJUc0mLLDJZM9xbA8ipQevV3NECHxlkj6laiWeV469eSy7OTnf6nmqYSbN49pjAHxL74imtSlAeQ/LggBQXSU+fi91L3k+031WrJKjuAqkqndt5DaIscbqrSlDA9S14Yv8xe/DzG439QEhXQLMU5JdR2dg4XmOVzCOv/1Aeqlj1mokDpn3/XGMafgApXJIHjDirDhfbNl5kFCzQozzNRf5pJPB7EAJvLzRlH+tMbeDhAnLwy43fzrB8tg2YMDQW6PGLOWMLvOsV+U4eIiO+iMZIkJtzb6Lvgl4vnujXkjlV8aZ6mp0oIbaGyiHvR7OEWZfWPggtYcHmgUuAo+UO3qiEGCUDJKfXa9Qa086yo/CIKnFofDWputjKKb0Ce6GJ1Wen5JCkqKEXj2a4WIRe0AZzyPLc98wXQ4Uu3rV5U8zg3rtQP3zaZmMvuR4CAXnZPl399w4urV0xYo+nY8W9iHznqRCmB4k2UURiMnmbpyrmR8zFyE1K1/hbpfD9MFtN1TVQJvGJvdy/0yJtHpUBjcddfBHFujQ9G3KTA3Ut8rxdISOQBwF8j03UOL5DajH7JAz+/DP5cz6K+Jh3U=
Spamdiagnosticmetadata: NSPM
Spamdiagnosticoutput: 1:99
---
Greetings,
Thank you to all who participated in the Advance CAMP Unconference at TechEx, Oct. 18 - 19, 2017. The range of topics discussed at the 40 breakout sessions and the level of engagement were impressive, setting a strong foundation for future collaborative work.
Special appreciation goes to the community members who facilitated the breakout sessions and to those who stepped up to help in scribing. The scribing Google docs, which provide an excellent record of the 2017 Advance CAMP are linked from:
https://spaces.internet2.edu/x/-ondBg

If you have additional edits or contributions to the scribing docs, please make them COB on Friday, Oct. 27, 2017. After that, the documents will be changed to "view only."
Best regards,
Emily
Emily Eisbruch, Work Group Lead, Trust and Identity
Internet2
office: +1-734-352-4996 | mobile +1-734-730-5749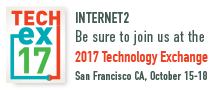 ---
[trust-identity-reg] Advance CAMP Unconference 2017 Follow-up, Emily Eisbruch, 10/24/2017
---
Archive powered by MHonArc 2.6.19.